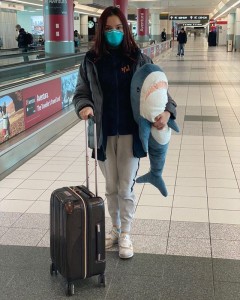 Last week I shared the poster for the upcoming Pretty Guardian Sailor Moon Prism On Ice show which is planned for June. I also mentioned that due to the ongoing COVID-19 pandemic, these dates could be in question. On Wednesday Russian figure skater Evgenia Medvedeva, who will star as Sailor Moon in the show, mentioned on Instagram that she is currently on her way to Japan in advance of anticipated border closures between Canada and Japan. As she recently returned from the United States to Canada, she mentions having been in quarantine. This is likely the 14 days of self isolation mandated by the Canadian Government for those returning from international travel. She also makes reference to ice rinks and gyms being closed, as is currently the case throughout Ontario.
She had the following to say:
I ended quarantine after returning from the US to Canada. I have been spending time at home for more than last two weeks. The ice rinks and gyms are closed in Canada, nothing works. As you know, we will have "Prism on ice" (sailor moon show) this June in Japan. In accordance with border closures between Canada and Japan for an indefinite period, my team and I decided to leave Canada and fly to Japan in advance. I am safe and everything is good! I love all of you, be safe and please take care of yourself and your nearest and dearest!
While it is certainly possible that this event could be impacted by the ongoing pandemic, it seems like it isn't canceled yet! Evgenia Medvedeva is headed to Japan early in order to work on her training in anticipation of this show. She is not the only person traveling to Japan from Canada and any further restrictions on international travel could impact who might be available for this show.
If you're living outside of Japan and were hoping to attend this show, I would suggest you reconsider any international travel this summer. Even if the show continues as planned, the worldwide health crisis is likely to be ongoing in many countries and spending time traveling and in airports is a risk which should not be taken lightly.
Regardless of what happens we are certainly hoping Evgenia Medvedeva and the rest of the cast and crew involved with the show continue to be healthy during these difficult times. Stay safe, stay healthy and take care of yourselves.
Possibly Related Posts