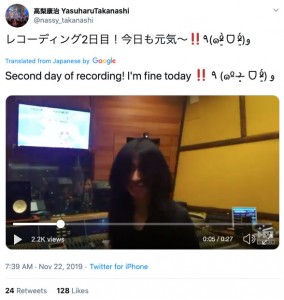 Yasuharu Takanashi, the composer for the upcoming Sailor Moon Eternal films, sent a Tweet including a video of him recording some music on November 22nd. Twitter user @CCTakato noticed that the monitor seen in the background of this clip showed Sailor Moon and Sailor Chibi Moon. It is plausible that this clip is of music for the first Sailor Moon Eternal movie which will be released in Japan on September 11th 2020. Not much of the music can be heard, which is probably deliberate. Check out the footage in the embedded Tweet below.
レコーディング2日目!今日も元気〜‼️٩(๑ᵒ̴̶̷͈̀ ᗜ ᵒ̴̶̷͈́)و pic.twitter.com/BlI8kPgrNH

— 高梨康治 YasuharuTakanashi (@nassy_takanashi) November 22, 2019
Though it's hard to make out the image on the screen it does look like it's Sailor Moon near the middle and Sailor Chibi Moon on the bottom right. I messed around with the image a bit to try to clear it up and here's the best I could come up with.
Is this the first still of Sailor Moon Eternal that we're seeing? It looks like they were watching footage while recording their music, though in this case the video appears to be paused.
How reliable is this? Let's not forget that Yasuharu Takanashi is the one that told us to expect Sailor Moon Crystal season 4 in 2018! What do you think?
Possibly Related Posts