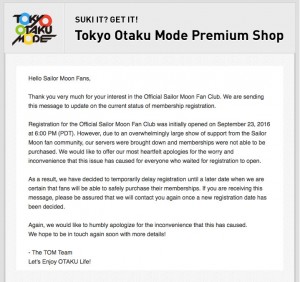 Last night at 6pm Pacific Time, 9pm Eastern Time, the Tokyo Otaku Mode web site began accepting pre-orders for the Official Sailor Moon Fan Club. This included allowing fans in Canada, the US and other countries outside of Japan to apply. Unfortunately the web site which hosted the Tokyo Otaku Mode store immediately became unresponsive and no orders were successfully processed. Unlike Kunzite I was not too proud to refresh the page for a few hours which caused long page loads followed by a series of "Bad Gateway" and "Gateway Timeout" errors and eventually 404 errors as the product page for the Fan Club registration was taken offline.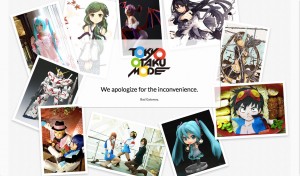 A message was sent out on the Tokyo Otaku Mode Twitter account stating that registration was closing and that it would be reopened at a later date. A full e-mail was later sent out to users who had previously asked to be notified of details about the Fan Club stating that indeed the site was down due to high traffic and that the fans would be able to sign up at a later, as of yet unannounced date, when they assure us that fans will be able to safely purchase their memberships. Fans who had signed up to be notified by e-mail will get some notification when this occurs. If you haven't signed up for that e-mail notification yet you can still do so following this link to the Tokyo Otaku Mode site. The Tokyo Otaku Mode Twitter account has claimed that registration will be announced well in advance.
Read the full e-mail sent to interested users below:
Hello Sailor Moon Fans,

Thank you very much for your interest in the Official Sailor Moon Fan Club. We are sending this message to update on the current status of membership registration.

Registration for the Official Sailor Moon Fan Club was initially opened on September 23, 2016 at 6:00 PM (PDT). However, due to an overwhelmingly large show of support from the Sailor Moon fan community, our servers were brought down and memberships were not able to be purchased. We would like to offer our most heartfelt apologies for the worry and inconvenience that this issue has caused for everyone who waited for registration to open.

As a result, we have decided to temporarily delay registration until a later date when we are certain that fans will be able to safely purchase their memberships. If you are receiving this message, please be assured that we will contact you again once a new registration date has been decided.

Again, we would like to humbly apologize for the inconvenience that this has caused.
We hope to be in touch again soon with more details!

– The TOM Team
Let's Enjoy OTAKU Life!
Fan Club membership will cost $58 US and last until June 30th. This will give fans a membership card, access to the Fan Club App for mobile devices and lip gloss fashioned after Sailor Moon's original Transformation Brooch as well as the option to buy Fan Club exclusive merchandise in the future.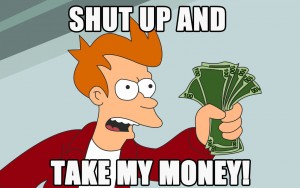 Possibly Related Posts