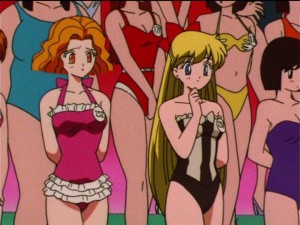 The two latest episodes of Sailor Moon S have been added to Hulu and Neon Alley. This week we focus a lot on boy crazy Mimete and her crazy antics, as well as getting a good look at Hotaru and her mysterious past.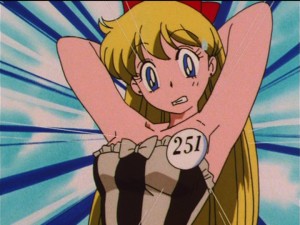 Episode 114, I Love Idols: Mimete's Dilemma, has Mimete and Minako facing off against each other in a contest to find the lead in an idol's next movie. Jinta Araki is a heartthrob that both Minako and Mimete are infatuated with. Minako has long had a dream of being an idol, and this fits right in with that. As with many other times in the series, this creates a situation where one of our heroes befriends one of the enemies without realising what is really going on. The contest goes well for Minako, who is quite surprised by her success. She passes the swimsuit part of the contest, which will please a certain reader who is a big fan of episodes with swimsuits. She makes it to the final five before being cut, though she will do much better in a later episode. Mimete loses and, as always, freaks out and attacks the target who she was previously infatuated with. Mimete is like Kirk from the original Star Trek series who would frequently kiss a girl and then hit her all in the same episode.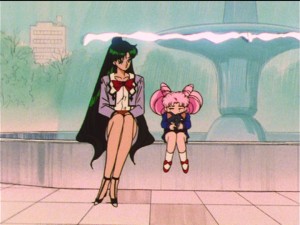 Episode 115, Shadow of Silence: The Pale Glimmer of a Firefly, is all about Hotaru. The title is a pun in Japanese, as the word "Hotaru" means firefly. The episode starts out with a nice conversation between Setsuna and Chibiusa. Even though they were BFFs in the future, they don't get to interact much in the present time. There's little question at this point as to whether or not Hotaru is the Messiah of Silence who her father, Professor Tomoe, is talking to. When she has pain during their conversation we immediately cut to Hotaru in pain on her bed. When Chibiusa visits Hotaru she is turned away, but Hotaru pursues and reveals the full extent of her health problems when she falls ill and needs to be hospitalised. In some flashback scenes we see a lot of what has been going on with this girl. She has some sort of dangerous ability which first manifested itself when she was a child and killed a fish. Later we see her in school when she unknowingly hurt a boy in her class. Her school uniform in this scene is from the Mugen Academy, which Haruka and Michiru also attend.
Support the site by buying Viz's dubbed and subbed episodes of Sailor Moon on DVD or Blu-Ray using the links below: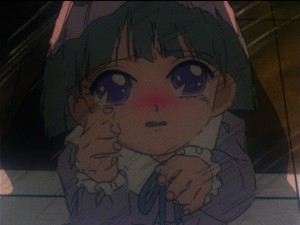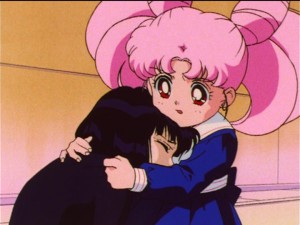 Possibly Related Posts