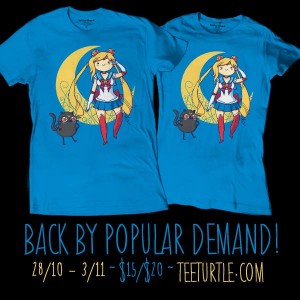 All this week this very cool Adventure Moon shirt, showing Sailor Moon and Luna drawn in the style of Adventure Time, will be on sale at Tee Turtle. As opposed to other shirt a day sites this one will be on sale all week, starting at $15 today, Monday October 28th, and then selling for $20 for the rest of the week, ending Sunday November 3rd.
This is the 3rd time we see this shirt for sale on this kind of site and it continues to be very popular.
The shirt's artist, Eriphyle, has done many Sailor Moon designs including a series of Art Nouveau shirts. You can check those out on her web site or Facebook page. She also has an Etsy shop but it's temporarily closed.
Possibly Related Posts