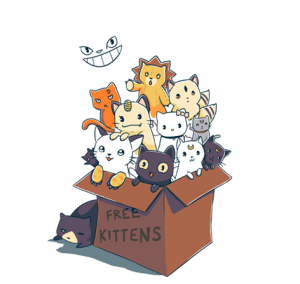 Another shirt a day site, TeeFury, has a Sailor Moon inspired t-shirt, or at least one that is partially Sailor Moon inspired. This "Free Kittens" shirt includes a ton of anime cats including Sailor Moon's own Luna, Artemis and Diana. The shirt is $11 for one day only, June 11th 2013.
Also included on the shirt are, and forgive me if I get any of these wrong, the Cheshire Cat, Kon, Kirara, Meowth, Hello Kitty, Gatomon and four cats that aren't familiar to me.
The shirt's artist is ramyb who also runs the t-shirt site Tee Turtle which has a lot of great designs.
Possibly Related Posts