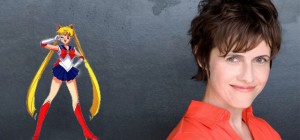 It's been a while since we first mentioned this convention back in September but the time is finally here. This weekend, Friday January 25th to Sunday January 27th, is G-Anime in Gatineau at the Palais des Congrès de Gatineau, a few mintues from downtown Ottawa. The main guest that followers of this site will likely be interested in is the English voice of Sailor Moon, Terri Hawkes.
Terri Hawkes will have two panels at the convention. The first will be on Saturday at 11am where Terri Hawkes will talk about her role in Sailor Moon. An autograph session will follow at noon. On Sunday at noon Terri Hawkes will be doing a panel on acting, writing and directing as a professional. An autograph session will follow at 1pm. Though the convention is bilingual both of these panels will be presented in English.
Sailor Moon fans will also enjoy a concert by Irulanne who will be doing a show which will include a Sailor Moon Tribute Medley. This will be at 2pm on Saturday and will be broadcast live online.
There will also be a Sailor Moon panel on Saturday at 4pm.
If you expect to be going let us know in the comments. I hope to see you there! Gat City represent!
Possibly Related Posts