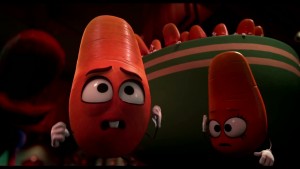 Sugar Lyn Beard, the second voice of Chibiusa in the original English dub of the Sailor Moon anime, has a couple of movies coming out this summer. One is Sausage Party, a bizarre animated comedy staring Seth Rogen about living thinking food items which get eaten. Sugar plays the Baby Carrots in this film, which are featured prominently in the new trailer. Note that this is a restricted trailer which features adult content including violence, drug use and language.
Sausage Party will be released in theatres August 12th.
She'll also be appearing in Mike and Dave Need Wedding Dates. She plays Mike and Dave's sister Jeanie who is the one that is getting married. You can also see her in the trailer for that movie which will be released on July 8th.
Possibly Related Posts