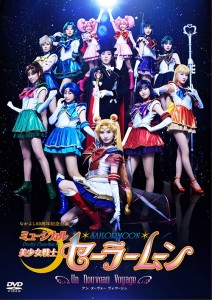 The DVD for Sailor Moon Un Nouveau Voyage will be released on February 24th. Those interested in shelling out 6,233 yen, about $55 US, can preorder the DVD from Amazon Japan. Two clips have been released on the official Sailor Moon site to promote this release. They are embedded below.
While I thoroughly enjoyed this musical, which I realize I never wrote a proper review for, I am already disappointed with this DVD release. I am once again asking myself, "Why DVD and not Blu-Ray?". The last two musical DVDs have had terrible video quality, with interlaced 480i video. This musical deserves better than VHS era resolution. An HD version does not seem possible as footage from these clips show video artifacts normally seen with interlaced video.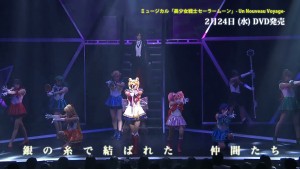 Without getting into too many technical specifics an interlaced video is when one field is shown at a time, something we dealt with in the days of standard definition video because of the way a TV signal worked. We don't need to deal with this anymore in the era of HD terminals. DVD supports progressive scan video, which is usually what is used for movies. Some older TV shows and the occasional low budget film will be shot on video and only have interlaced source material. This musical, which took place in 2015, really should have been shot on some modern cameras but it looks like either the cameras are cheap or there is some really poor video editing going on once again. In contrast Star Trek is 50 years old and was released on Blu-Ray in beautiful 1080p HD years ago.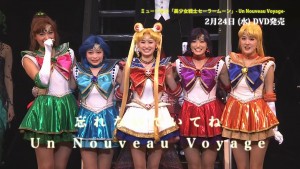 So buy this thing like I am because you like to support Sailor Moon. It will have some cool features no doubt and it is the only legal way of watching this musical on home video. The less than totally legal way to watch this musical, with English subtitles, would be to download the fansub from Miss Dream.
Source: Offical Sailor Moon site (Link 1, Link 2)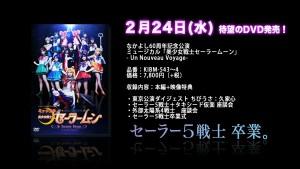 Possibly Related Posts