There are two new Sailor Moon shirts for sale today and today only at The Yetee. These shirts are only for sale on August 6th for $11. The first shirt, "The Tao of Meow" has Luna and Artemis posed like a Yin and Yang symbol lying on top of a bed of roses and various Sailor Moon transformation and attack items. The second shirt, "Teen Romance Comics" has Sailor Moon and Tuxedo Mask in an old American comic type design.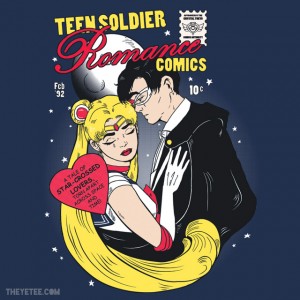 The Tao of Meow shirt is designed by artist Gilles Bone. More of his work can be found on his Redbubble, Facebook, Twitter, deviantART and tumblr pages.
The Teen Romance Comics shirt was previously sold at Shirt Punch. This shirt's artist is DiHA. Check out the original piece that this shirt was based off of. Check out her RedBubble store, Deviant Art and Facebook pages for more of her work.
Possibly Related Posts