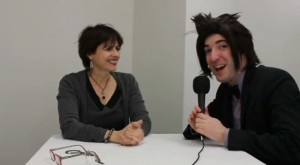 Here's a video "Luduc versus le doublage" (Luduc vs. Dubbing) recorded at G-Anime 2013 in Gatineau which includes an interview with Terri Hawkes, the voice of Sailor Moon from the English dub of the Sailor Moon anime. This video is primarily in French but the portions with Terri Hawkes, which includes Sailor Moon saying lines from famous movies, are in English.
Mixed in with this are two French interviews, one with Olivier Visentin, an actor who dubs French voices for English movies such as the voice of Jonah Hill's characters and the other with Jackie Berger who is best known as the voice of Estaban from the French dub of "Les Mystérieuses Cités d'or" or "The Mysterious Cities of Gold", an anime show that was quite popular amongst French Canadians.
Check out Luduc's YouTube channel for more of his convention videos.
Readers may recognize the room these interviews are done in from our interview with Terri Hawkes at the same convention.
Possibly Related Posts