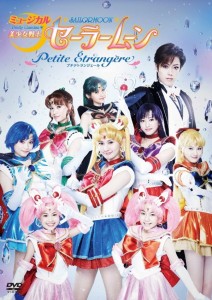 This coming Wednesday, January 28th 2015, the Pretty Guardian Sailor Moon Petite Étrangère musical will be released in Japan. This second musical covers the Black Moon Clan story arc introducing us to Chibiusa, Sailor Pluto and Crystal Tokyo. As with the release of last year's musical, La reconquista, this DVD is region 2 and will have Japanese audio. Not terribly useful for English speaking fans with region 1 DVD players.
News about this was posted on the Sailor Moon Official site along with the following commercial:
This follows presentations of the Petite Étrangère musical in the Shanghai Theatre Academy in China from January 18th to the 20th.
You can preorder the DVD from Amazon Japan for 6233 yen, which is about $53 US. They ship worldwide, though the fees can be considerable.
Two more videos were posted to the Sailor Moon YouTube channel. One is a digest of various clips from the first day and the other is the "Ai No Starshine" song. Both can be seen below.
Possibly Related Posts