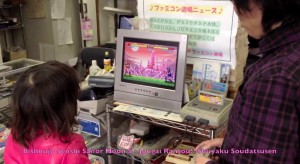 Here's a video of a young Japanese girl beating up a grown man in the Sailor Moon S fighter!
This impromptu play session is taking place at the Famicom Dojo store in Japan. If you would also like to master the Sailor Moon S fighting game just remember to keep light kicking! Using this strategy even a girl who was born over a decade after Sailor Moon was off the air can beat a grown man who runs a gaming store! The Sailor Moon S: Jougai Rantou!? Shuyaku Soudatsusen game is a Super Famicom vs. fighter similar to games like Street Fighter II.
This video was produced by our sister site "Famicom Dojo" and stars the daughter of Famicom Dojo's Vinnk. Famicom Dojo produces a series of videos looking at the history of classic gaming as well as a great podcast.
You can also buy the first season of the Famicom Dojo series on DVD.
Possibly Related Posts
No related posts.